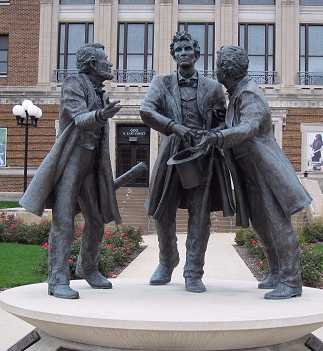 Jumonville Statue in Bloomington, Illinois
Named "The Convergence of Purpose," this statue grouping by local artist Andrew Jumonville stands in Lincoln Park outside the Bloomington Center for the Performing Arts. It depicts Abraham Lincoln during the 1850s between two longtime friends from Bloomington-Normal: Jesse Fell and David Davis. Fell famously asked Lincoln for an autobiography to help promote him and Davis served as Lincoln's campaign manager in the 1860 presidential race.
Dedicated on October 23, 2010, the bronze work was sponsored by the Abraham Lincoln Bicentennial Commission of McLean County, the City of Bloomington, County of McLean, and Town of Normal. It symbolizes the influence of these "Friends, lawyers, politicians, who mastered the art of politics, built the Republican Party, and together fostered '... a new birth of Freedom.'"
<Click on picture to continue.
Back to Tour Home