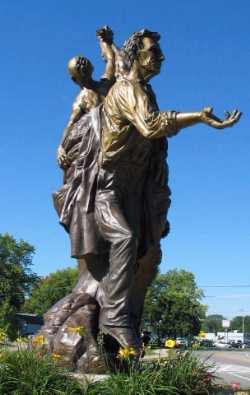 Adams Statue in Oregon, Illinois
Sculptor Jeff Adams designed a highly unusual statue with Abraham Lincoln and Chief Black Hawk emerging from the same base. It stands in the beautiful Rock River Valley, an area familiar to both men in the 1830s. You will find the massive bronze work in a park beside Route 2 about one-half mile south of Route 64.
Entitled "Paths of Conviction, Footsteps of Fate," the dual statue was dedicated on October 13, 2002. Adams explained, "This sculpture is a reflection on the personal conviction, struggle, and fate shared by Lincoln and Black Hawk."
Adams created the Lincoln portion using a life mask and 64 photographs. "My intent was to capture Lincoln's spirit, not illustrate a particular moment in history." The Black Hawk figure "sits on an incline, symbolic of the precarious position of the Native Americans during the white settlement of the prairie."
<Click on picture to continue.
Back to Tour Home