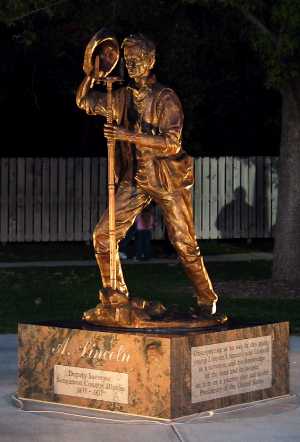 McClarey Statue in New Salem State Park, Illinois
One of the newer Lincoln statues in New Salem, this life-size bronze work was designed by John McClarey of Decatur, Illinois. It was dedicated on October 4, 2003, to the staff and volunteers of Lincoln's New Salem State Historic Site, and stands near the Visitor Center.
It depicts Lincoln using surveyor tools like the ones he owned when he lived in this village and worked in the surrounding area. The inscription on the base reads, "A. Lincoln - Deputy Surveyor, Sangamon County, Illinois 1833-1837."
The base also reads, "Unsuspecting as he was in this place, young Lincoln's honesty and fairness as a surveyor, and his knowledge of the land and its people, set him on a journey that led to the Presidency of the United States." The Illinois Professional Land Surveyors Association commissioned the statue.
<Click on picture to continue.
Back to Tour Home