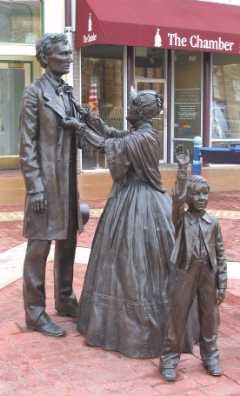 Anderson Statues in Springfield, Illinois
As you enter Springfield's downtown square near 6th and Adams streets, you will encounter a four-part Lincoln family grouping by Larry Anderson. Known as "Springfield's Lincoln," it was unveiled June 5, 2004, by then-Mayor Timothy J. Davlin. These realistic life-size bronze figures show Abraham and Mary Lincoln with two of their sons. "Willie" waves to a likeness of his older brother Robert, which stands at a distance.
Anderson chose October 4, 1854, to depict a symbolic moment for the Lincolns. Roused by the possible extension of slavery in U.S. territories, Abraham pauses before heading to the nearby statehouse for a speech. He stands with the manuscript tucked into his hatband, while his wife adjusts his coat.
The sculpture grouping, part of the outdoor interpretive program "Here I Have Lived," is designed to help visitors understand Lincoln in his hometown environment. Federal grants underwrote the cost.
<Click on picture to continue.
Back to Tour Home