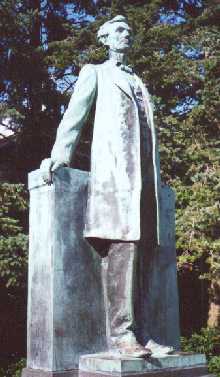 Taft Statue in Urbana, Illinois
This university town boasts one of the most famous older Lincoln statues in America. It was produced by Lorado Taft, an Illinois native born in 1860, the year Lincoln was elected President. You can see a small copy on display at the Lincoln tomb in Springfield.
Because Lincoln visited Urbana on the law circuit, this bronze masterpiece originally stood near the courthouse where he practiced law. Soon after its dedication in 1927, however, it was moved to Carle Park across the street from the high school.
Dr. William E. Barton, the dedicatory speaker, explained, "This statue shows Abraham Lincoln as Urbana saw him, in the days when he stood at the bar of justice in the court house yonder, or spoke at political meetings in the court house square."
<Click on picture to continue.
Back to Tour Home