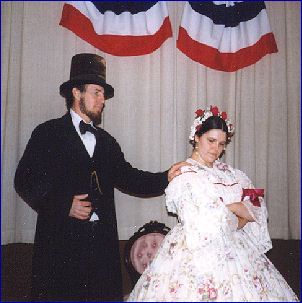 &copy Abraham Lincoln Online
Meet the Lincolns
Although it's too late to meet the original Mr. Lincoln, you might run into an uncanny replica on the streets of Springfield, Illinois ... or most anywhere else. That's because America boasts more than 100 Lincoln presenters -- actors who dramatically re-create our sixteenth President.

This veritable army of Abraham look-alikes follow a 100-year-old tradition of portraying Lincoln to their generation. Donning their respective frock coats and stovepipe hats, they bring history to life at schools, churches, parades, banquets, trade shows, conventions, clubs, Civil War re-enactments and other meetings. Sometimes they'll introduce you to both Abraham and Mary, such as Max and Donna Daniels, shown here at the Lincoln Home Visitor Center.

To find out more, visit the Association of Lincoln Presenters web site.