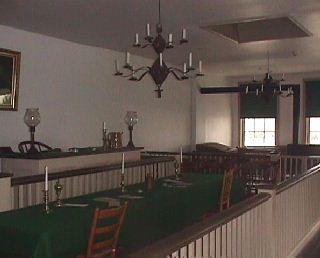 Tinsley Building, Springfield, Illinois
Federal Courtroom
In the Tinsley Building, Abraham Lincoln and his partners first rented space over the U.S. Circuit courtroom. In fact, they could listen to proceedings through the trap door you see in the ceiling. Judge Nathaniel Pope, who held court in this room, had admitted Lincoln to practice in the U.S. circuit court system starting December 9, 1839.
This restored courtroom was the only Illinois federal court from 1841 to 1855, when the offices moved to Chicago.
<Click on picture to continue.
Back to Tour Home