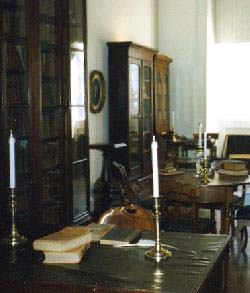 Old Capitol, Springfield, Illinois
Old Capitol State Library
Abraham Lincoln often did legal research in the statehouse across from his law office. Known in Springfield as the Old State Capitol, this restored building welcomes you as a visitor.
During Lincoln's time, the Secretary of State also served as state librarian, so the library was located next to his office. On December 16, 1842, Lincoln became the first person to borrow a book, signing under his law partner's name. Lincoln also met John G. Nicolay here, the young lawyer whom he later hired as a White House secretary.
<Click on picture to continue.
Back to Tour Home