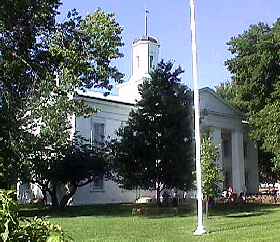 Vandalia, Illinois
Vandalia Statehouse
After Abraham Lincoln was elected to the legislature, he spent time at the Illinois statehouse in Vandalia. Today you can visit this restored building on the town square. Lincoln juggled law studies with legislative duties and a surveying job, according to his 1860 autobiography:
"He still mixed in the surveying to pay board and clothing bills. When the legislature met, the lawbooks were dropped, but were taken up again at the end of the session. He was reelected in 1836, 1838, and 1840. In the autumn of 1836 he obtained a law license, and on April 15, 1837, removed to Springfield, and commenced the practice--his old friend Stuart taking him into partnership."
<Click on picture to continue.
Back to Tour Home