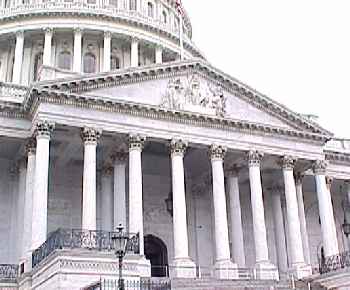 East Portico
Each time President Lincoln was inaugurated he stood on a platform under the east portico. In his First Inaugural Address, he pleaded with Americans to avoid war, saying, "In your hands, my dissatisfied countrymen, and not in mine, is the momentous issue of civil war. The government will not assail you."
During his Second Inaugural Address, when the end of the war was only weeks away, he said, "With malice toward none; with charity for all; with firmness in the right, as God gives us to see the right, let us strive on to finish the work we are in."
<Click on picture to continue.
Back to Tour Home