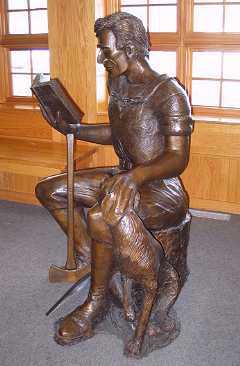 Wetherholt Statue in
New Salem State Park, Illinois
The next time you walk into the Visitor Center at New Salem, look to the left to find the park's newest Lincoln statue. Dedicated on Abraham Lincoln's 202th birthday, it was designed by Larry Wetherholt of Decatur, Illinois. Called "Search for Knowledge," this approachable depiction of Lincoln naturally attracts children, who want explore it and pose beside it.
The full-size bronze statue shows a young Lincoln seated on a tree stump with an axe at the ready, reading a book, true to his habits at the village during the 1830s. The dog near him represents his love of pets, although he was not known to own one during this time. The statue is the gift of Bloomington Chapter 50, Order of the Eastern Star of Illinois.
<Click on picture to continue.
Back to Tour Home