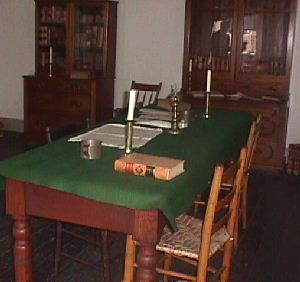 Tinsley Building, Springfield, Illinois
Other Law Office
In 1847 Abraham Lincoln went to Washington, D.C. as a newly elected U.S. Representative. Meanwhile, his law partner moved their office down the hall to these smaller quarters in the Tinsley Building.
Between Congressional sessions, Lincoln returned to Springfield and his practice. In 1848 he also worked on an invention to lift boats over shoals. His partner recalled, "Occasionally he would bring the model in the office, and while whittling on it would descant on its merits and the revolution it was destined to work in steamboat navigation." He received a patent in 1849, but the device was never manufactured.
<Click on picture to continue.
Back to Tour Home