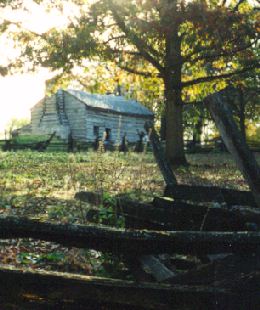 Rutledge Tavern, New Salem State Park
Rutledge Remembers Lincoln
Some New Salem residents remembered Abraham Lincoln studying law, including Robert B. Rutledge, whose father owned a tavern on this land. In a letter written the year after Lincoln died, he said, "He never appeared to be a hard student as he seamed to Master his studies with little effort, until he commenced the study of Law, in that he became wholly engrossed."
Rutledge recalled, "I think he never avoided men until he he [sic] commenced the study of Law, further than to read & study at late hours after the business of the day was disposed of, in the Summer season he frequently retired to the woods to read & study..."
<Click on picture to continue.
Back to Tour Home