This Week in History
March 11, 1860
While on a speaking tour of the northeast, Lincoln hears Henry Ward Beecher preach at Plymouth Church in Brooklyn, New York.
March 14, 1864
President Lincoln orders the draft of 200,000 men for military service.
March 16, 1836
Lincoln buys a small tract of government land on the Sangamon River near Springfield, Illinois.
Today in Lincoln's Life
Lincoln's Words
"The struggle of today, is not altogether for today -- it is for a vast future also. With a reliance on Providence, all the more firm and earnest, let us proceed in the great task which events have devolved upon us."
--Annual Message to Congress, December 3, 1861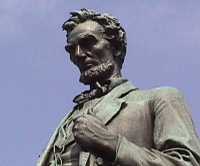 Lincoln Events

Welcome

News Highlights

Illinois Executive Mansion Reopens July 14
Letter, Painting Donated to Lincoln Museum
Lincoln Funeral Flower Discovered
Tad Lincoln Ring Donated to Museum
Lincoln Campaign Banner to be Restored
UIS Announces Center for Lincoln Studies
LOC Lincoln Documents Available in Color
Experts: Lincoln Papers Project has Talented Staff, Poor Management
Frank and Virginia Williams Donate Lincoln Collection
Lincoln Papers Melodrama Plays On
Lincoln Document Search Suspended at NARA
Divorce Court: UIS, Lincoln Papers Parting Ways
Civil War: Fights at ALPLM Hit Lincoln Papers
McDermott Rebuttal to ALPLM Director
Groups Hold Lincoln Memorial Ceremony for 61st Year
ALPLM Removes John Wilkes Booth Statue