This Week in History
January 27, 1838
Lincoln gives a now-famous speech at the Young Men's Lyceum in Springfield, Illinois.
January 28, 1861
President-elect Lincoln writes an early draft of his First Inaugural Address in Springfield, Illiinois.
February 1, 1850
Edward Baker Lincoln, son of Abraham and Mary, dies at home at nearly four years of age.
Today in Lincoln's Life
Lincoln's Words
"The struggle of today, is not altogether for today -- it is for a vast future also. With a reliance on Providence, all the more firm and earnest, let us proceed in the great task which events have devolved upon us."
--Annual Message to Congress, December 3, 1861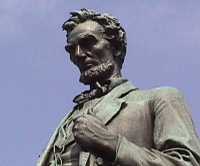 Lincoln Events

February 7 Lincoln Dinner, Charleston, IL

February 7 Lincoln Dinner, Wilmington, DE

February 8 Birthday Celebration, Bloomington, IL

February 8 Open House, Redlands, CA

February 8 Birthday Celebration, Lincoln, RI

February 9 Ford's Theatre Tour, Washington, DC

February 9 Annual Lincoln Day, Lincoln City, IN

February 11 Lincoln Program, Arlington, VA

February 11-12 Birthday Events, Springfield, IL

February 12 Lincoln Memorial Ceremony, Washington, DC

February 12 Lincoln Dinner, Redlands, CA

February 12 Wreath-Laying Ceremony, Hodgenville, KY
Welcome

News Highlights

Tick Tock: ALPLM Issues Go Beyond Hat
ALPLM to Decide Status of Lincoln Hat
Report Disputes Lincoln Hat Authenticity
Loan Extension Granted for Taper Collection
Illinois Governor's Mansion Reopens
The Truth Outs: ALPLM in Disarray
IG Recommended Firing ALPLM Director
Historian Rodney Davis Dies at 87
Governor Names ALPLM Board Members
Lincoln Bible Donated to ALPLM
ALPLM Legislation Goes to Illinois Governor
Abraham Lincoln's $6 Million Hat
New Salem is Getting Old Again
Campaign to Buy Lincoln Document
Lincoln Foundation Director Appointment Status May Change
David Blight Wins Lincoln Prize
Selling Expendable Lincoln Items Won't Erase Debt
Another Day, Another Circus: ALPLM Foundation Goes Begging
ALPLM Foundation Audit Requested
ALPLM Questions Not Limited to Hat
Lupton on Lincoln's Handwriting
Lincoln Documents Donated to ALPLM
Museum Director Cuts Personal Financial Tie to Foundation
Holzer Collection Auction Results
Commentary: Confederacy of Dunces
Endangered Artifacts: Foundation Seeks Auction House
New State Superintendent of Springfield Sites
Wide Awakes Parade Reenactment in Springfield
Illinois Governor's Mansion Reopens
Blandford Named Illinois Governor's Mansion Curator
Governor's Mansion Shines Again
GoFundMe for At-Risk Lincoln Artifacts
Selling Lincoln: ALPLM Foundation Seeks Bailout
ALPLM Foundation May Sell Artifacts to Pay Debt

Lincoln Papers Posted by ALPLM

ALPLM Publishes Online Digital Archive