This Week in History
February 27, 1860
Lincoln gives a now-famous speech at the Cooper Institute in New York City.
March 1, 1842
Lincoln is admitted to practice law in the United States District Court.
March 3, 1837
Lincoln and fellow Illinois legislator Daniel Stone write a protest against slavery.
Today in Lincoln's Life
Lincoln's Words
"The struggle of today, is not altogether for today -- it is for a vast future also. With a reliance on Providence, all the more firm and earnest, let us proceed in the great task which events have devolved upon us."
--Annual Message to Congress, December 3, 1861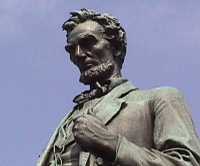 Lincoln Events

Welcome

News Highlights

Letter, Painting Donated to Lincoln Museum
Lincoln Funeral Flower Discovered
Tad Lincoln Ring Donated to Museum
Lincoln Campaign Banner to be Restored
UIS Announces Center for Lincoln Studies
LOC Lincoln Documents Available in Color
Experts: Lincoln Papers Project has Talented Staff, Poor Management
Frank and Virginia Williams Donate Lincoln Collection
Lincoln Papers Melodrama Plays On
Lincoln Document Search Suspended at NARA
Illinois Senate Approves ALPLM as a Separate Agency
Divorce Court: UIS, Lincoln Papers Parting Ways
Civil War: Fights at ALPLM Hit Lincoln Papers
McDermott Rebuttal to ALPLM Director
Picking the Brain of ALPLM Head
Illinois House Ok's Bill to Make ALPLM Separate Agency
Groups Hold Lincoln Memorial Ceremony for 61st Year
ALPLM Removes John Wilkes Booth Statue