This Week in History
November 19, 1863
President Lincoln delivers his now-famous Gettysburg Address at the dedication of the soldiers' cemetery.
November 20, 1863
President Lincoln replies to Edward Everett, the principal speaker at Gettysburg, thanking him for his response to the Gettysburg Address.
November 22, 1860
President-elect Lincoln arrives in Chicago, Illinois to meet Hannibal Hamlin, his vice president elect.
Today in Lincoln's Life
Lincoln's Words
"The struggle of today, is not altogether for today -- it is for a vast future also. With a reliance on Providence, all the more firm and earnest, let us proceed in the great task which events have devolved upon us."
--Annual Message to Congress, December 3, 1861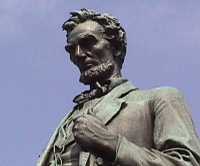 Lincoln Events

November 20 Lincoln Lecture, Fredericksburg, VA

November 20 1864 Election Lecture, Edgeworth, PA

November 23 Remembrance Day Events, Gettysburg, PA

November 23 Lincoln Days, Lexington, KY

November 24 Lincoln Lecture, Wilmington, DE

Welcome

News Highlights

Historian Rodney Davis Dies at 87
Illinois Governor's Mansion Closing for More Renovations
Governor Names ALPLM Board Members
Lincoln Bible Donated to ALPLM
ALPLM Legislation Goes to Illinois Governor
Abraham Lincoln's $6 Million Hat
New Salem is Getting Old Again
Campaign to Buy Lincoln Document
Lincoln Foundation Director Appointment Status May Change
David Blight Wins Lincoln Prize
Selling Expendable Lincoln Items Won't Erase Debt
Another Day, Another Circus: ALPLM Foundation Goes Begging
ALPLM Foundation Audit Requested
ALPLM Questions Not Limited to Hat
Lupton on Lincoln's Handwriting
Lincoln Documents Donated to ALPLM
Museum Director Cuts Personal Financial Tie to Foundation
Holzer Collection Auction Results
Commentary: Confederacy of Dunces
Endangered Artifacts: Foundation Seeks Auction House
New State Superintendent of Springfield Sites
Wide Awakes Parade Reenactment in Springfield
Illinois Governor's Mansion Reopens
Monroe Dress Sells for $50,000 at Auction
Blandford Named Illinois Governor's Mansion Curator
Governor's Mansion Shines Again
GoFundMe for At-Risk Lincoln Artifacts
Selling Lincoln: ALPLM Foundation Seeks Bailout
ALPLM Foundation Puts Marilyn Monroe Dress Up for Auction