This Week in History
September 22, 1862
President Lincoln reads the preliminary Emancipation Proclamation to his cabinet members.
September 23, 1849
Lincoln declines the Oregon governorship in a letter to Secretary of the Interior Thomas Ewing.
September 24, 1868
Robert Todd Lincoln, son of President and Mrs. Lincoln, marries Mary Eunice Harlan in Washington, DC.
Today in Lincoln's Life
Lincoln's Words
"I appeal to you again to constantly bear in mind that with you, and not with politicians, not with Presidents, not with office-seekers, but with you, is the question, "Shall the Union and shall the liberties of this country be preserved to the latest generation?"
--Speech to Gov. Morton in Indianapolis, February 11, 1861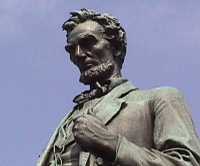 Lincoln Events

No events until further notice
Welcome

News Highlights

ALPLM Wrestles with Hat, Looks for Leadership
Firing of State Historian latest ALPLM Controversy
Lincoln Cottage Replica Planned
Lincoln Mortgage Document Discovered
Tick Tock: Issues Go Beyond Hat
ALPLM to Decide Status of Lincoln Hat
Loan Extension Granted for Taper Collection