This Week in History
January 20, 1828
Lincoln's older sister Sarah dies following childbirth in southern Indiana.
January 21, 1862
President Lincoln nominates Noah H. Swayne of Ohio to the U.S. Supreme Court.
January 23, 1864
President Lincoln is unanimously recommended for renomination by the Union Central Committee of New York.
Today in Lincoln's Life
Lincoln's Words
"The struggle of today, is not altogether for today -- it is for a vast future also. With a reliance on Providence, all the more firm and earnest, let us proceed in the great task which events have devolved upon us."
--Annual Message to Congress, December 3, 1861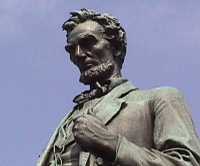 Lincoln Events

February 7 Lincoln Dinner, Charleston, IL

February 7 Lincoln Dinner, Wilmington, DE

February 8 Birthday Celebration, Bloomington, IL

February 8 Open House, Redlands, CA

February 8 Birthday Celebration, Lincoln, RI

February 9 Ford's Theatre Tour, Washington, DC

February 9 Annual Lincoln Day, Lincoln City, IN

February 11 Lincoln Program, Arlington, VA

February 11-12 Birthday Events, Springfield, IL

February 12 Lincoln Memorial Ceremony, Washington, DC

February 12 Lincoln Dinner, Redlands, CA

February 12 Wreath-Laying Ceremony, Hodgenville, KY
Welcome

News Highlights

Tick Tock: Issues Go Beyond Hat
ALPLM to Decide Status of Lincoln Hat
Loan Extension Granted for Taper Collection