This Week in History
March 29, 1860
Lincoln begins sitting for sculptor Leonard Volk in Chicago, Illinois.
March 30, 1863

President Lincoln proclaims April 30 as a day of national humiliation, fasting and prayer.
March 31, 1849
Lincoln returns to his home in Springfield, Illinois after his first and only term in Congress.
Today in Lincoln's Life
Lincoln's Words
"The struggle of today, is not altogether for today -- it is for a vast future also. With a reliance on Providence, all the more firm and earnest, let us proceed in the great task which events have devolved upon us."
--Annual Message to Congress, December 3, 1861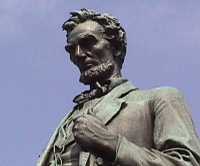 Lincoln Events

March 31 - April 2 Assassination Conference, Clinton, MD

April 4 Lincoln Meeting, Topeka, KS

April 8
Booth Escape Route Tour
, Washington, DC area

April 9 Ford's Theatre Tour, Washington, DC

Welcome

News Highlights

ALPLM Director Considers What Can be Added
Experts Helping with Online Release of Lincoln Documents
Madigan Proposes Making ALPLM Stand-Alone Operation
Stowell Fights Firing at Hearing
Governor Proposes Independent ALPLM
Missing Lincoln Sculpture Reappears
Conroy and Egerton Win Lincoln Prize
Lawyer: Lincoln Papers Director Fighting Termination
High-Tech Security System at Lincoln Tomb
Shakeup at Lincoln Papers Project
Wheeler Named Illinois State Historian
Mary Lincoln Funeral Ledger Rediscovered
Putting Lincoln Online is No Easy Political Task
NYT on the Lincoln Papers Crisis
Old Lincoln Newsletters Now Online
Presidential Museum Director Out
Presidential Museum Director Resigns
Lincoln Library: A Ghost of Its Former Self?
Springfield Funeral Procession Photos