This Week in History
May 25, 1861
President Lincoln and his wife attend the East Room funeral for Col. Elmer Ellsworth, who was assassinated the day before in Alexandria, Virginia.
May 29, 1856
Lincoln is a delegate to the Republican State Convention in Bloomington, Illinois, where he gives his stirring "lost" speech.
May 30, 1846
Lincoln loses his position as postmaster of New Salem when the office is discontinued.
Today in Lincoln's Life
Lincoln's Words
"The struggle of today, is not altogether for today -- it is for a vast future also. With a reliance on Providence, all the more firm and earnest, let us proceed in the great task which events have devolved upon us."
--Annual Message to Congress, December 3, 1861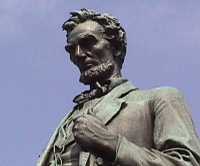 Lincoln Events

No events until further notice
Welcome

News Highlights

Lincoln Mortgage Document Discovered
Tick Tock: Issues Go Beyond Hat
ALPLM to Decide Status of Lincoln Hat
Loan Extension Granted for Taper Collection