This Week in History
July 23, 1856
Lincoln delivers a political speech from the balcony of the Desoto House in Galena, Illinois.
July 24, 1858
Lincoln writes to Stephen A. Douglas, challenging him to a series of public debates.
July 26, 1926
Robert Lincoln, only surviving son of Abraham and Mary, dies in Manchester, Vermont at age 82.
Today in Lincoln's Life
Lincoln's Words
"The struggle of today, is not altogether for today -- it is for a vast future also. With a reliance on Providence, all the more firm and earnest, let us proceed in the great task which events have devolved upon us."
--Annual Message to Congress, December 3, 1861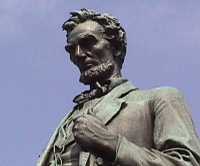 Lincoln Events

July 30 Ford's Theatre Tour, Washington, DC

August 13 Ford's Theatre Tour, Washington, DC

August 20 Ford's Theatre Tour, Washington, DC
Welcome

News Highlights

Experts: Lincoln Papers Project has Talented Staff, Poor Management
Frank and Virginia Williams Donate Lincoln Collection
Lincoln Papers Melodrama Plays On
Lincoln Document Search Suspended at NARA
Illinois Senate Approves ALPLM as a Separate Agency
Divorce Court: UIS, Lincoln Papers Parting Ways
Civil War: Fights at ALPLM Hit Lincoln Papers
McDermott Rebuttal to ALPLM Director
Picking the Brain of ALPLM Head
Illinois House Ok's Bill to Make ALPLM Separate Agency
Groups Hold Lincoln Memorial Ceremony for 61st Year
ALPLM Removes John Wilkes Booth Statue
ALPLM Director Considers What Can be Added
Experts Helping with Online Release of Lincoln Documents
Madigan Proposes Making ALPLM Stand-Alone Operation
Stowell Fights Firing at Hearing
Conroy and Egerton Win Lincoln Prize
Lawyer: Lincoln Papers Director Fighting Termination
Shakeup at Lincoln Papers Project
Wheeler Named Illinois State Historian
Putting Lincoln Online is No Easy Political Task
NYT on the Lincoln Papers Crisis
Presidential Museum Director Out
Presidential Museum Director Resigns
Lincoln Library: A Ghost of Its Former Self?
Springfield Funeral Procession Photos